Fast Start on the Serger
No serious sewing room is complete without a serger. It's a must for sewing knits and giving a professional finish to all your sewing projects. Use this class to see how a serger can add even more fun to your sewing experience.
This 3-hour class introduces the main tasks and capabilities of a basic serger. We get you through the learning curve of threading and operating a basic serger, including 3-thread and 4-thread serging and use of the basic machine accessories. Learn on our machines before you invest in your own.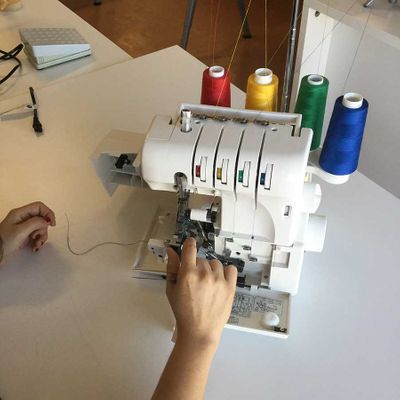 Here's how we can get you off to a fast, smooth start on .
Learn on our machines - This class is perfect for anyone who doesn't yet have a serger. Build up some expertise and be more informed as you shop for your own new serger.
Learn how sergers are different from sewing machines.
Build confidence in your sewing skills - Get lots of practice on the essentials of threading the machine and setting it up for 2, 3 or 4-thread functions.
Learn tips and tricks to perfect your new skills - Master the differential feed, troubleshoot stitch settings, and, as a bonus, learn to set up a narrow rolled hem edge.
This class covers only the main functions on a basic overlock machine, or serger. Please note that the 5-thread functions, cover stitch and chain stitch are not introduced in this class. These will be addressed in future serger classes.
Prerequisite
Sewing beginners can definitely learn to use a serger, but we strongly advise you have some proficiency and familiarity with a sewing machine in order to get full value from the class.
Proficiency on a sewing machine includes:
Ability to thread up and operate a sewing machine without assistance and
Experience with basic sewing construction by having completed at least a few easy sewing projects
We want you to get the most value from our classes, so please feel free to give us a call if you are unsure if this is right for you.
Get Started
$95
covers the class fee, use of machines and all supplies
Fast Start on the Serger - Schedule