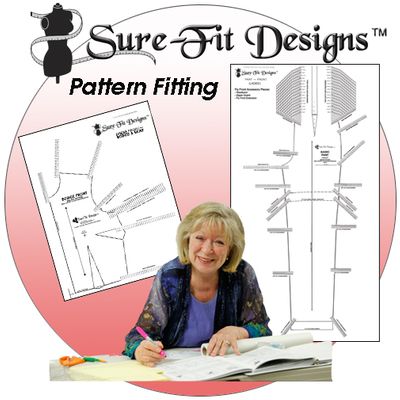 Pattern Fitting - The Dress Bodice
Achieve excellent-fitting patterns in this 3-day pattern fitting workshop, using the Sure-Fit Designs™ pattern system. You will draft your own personal pattern, your body blueprint (sloper), based on your unique measurements thus achieving an excellent fitting pattern.
This innovative pattern drafting and fitting system allows you to easily make a single set of blueprint patterns that is uniquely yours. From this pattern you can launch your own well-fitted wardrobe! The workshop will include design tips and techniques to set you free to take control of your own individual style.
Your reward? Using the versatile Sure-Fit Designs™ Dress Kit, you will have the foundation for the most basic items in your closet: skirts, dresses, tops, blouses and jackets. Your patternmaking will be easy and fun because Sure-Fit Designs™ took all the technical, math-y chores out of your work and provided an easy process and ingenious tools to help you achieve your desired wardrobe.
We are extremely honored and proud to announce that Sherry Reese of Thimble Fingers Sewing Studio Inc. has been certified and authorized to teach hands-on pattern fitting and design classes to our students using the Sure-Fit Designs™ system of pattern fitting and sewing.
You can follow this link to surefitdesigns.com for more information about the pattern fitting Kits, Essential Tools and multitude of learning resources.
To understand more about how Sure-Fit Designs can benefit you, visit www.SFDLearningCenter.com.

You want to make better-fitting clothes.

You dread shopping trips because nothing ever fits.

Your weight and size tend to fluctuate, and you need something that fits you right now.

You have your own distinctive style, and you want to create your own look.

You need another set of eyes and hands to assist, even if you know some basic fitting and pattern drafting.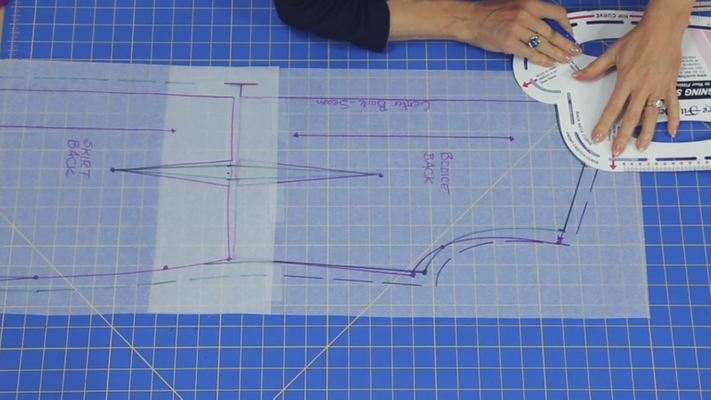 Workshop Course Outline
This is a 3-day workshop, 10am-5pm each day with a 45 minute lunch break.
During this bodice/dress fitting workshop you will:
Take an accurate, full set of personal measurements.

Draw three foundation blueprint/sloper patterns unique to you - for a bodice, sleeve and skirt - based on your own measurements. These will be the basis for creating blouses, tops, skirts and jackets.

Draw a bust dart unique to you with the Sure-Fit Designs™ Adjust-A-Bust template – no more Full Bust Adjustments (FBAs) on all your patterns for every sewing project!

Sew your new blueprint patterns in a practice "muslin" to test the fit.

Fine tune and personalize your fit if necessary. No more repeatedly tweaking and fussing over the same fitting techniques for every garment you make!

Learn about the many design changes you can make to your blueprint pattern, including princess seams, moving darts, adding pockets, changing sleeve lengths, designing necklines and more!
Cost
$259 for three full days of instruction plus cost of supplies and instructional materials. See below for details on supplies and to print a copy of the check list.
About Your Supplies
This workshop requires the purchase of the following items specific to the class. Bring your Sure-Fit Designs™ Dress Kit and Designing Stylus if you already have them; or they can be purchased when you register (online or by phone) or when you arrive for your class.
For more details on the Sure-Fit Designs™ Dress Kit and the Designing Stylus, you can check them out here.
Things to Bring to Your Bodice Fitting Workshop:
Sure-Fit Designs™ Dress Kit;
The Sure-Fit Designs™ Designing Stylus;
Tracing vellum (20yd roll)
Removable Tape

and . . .

Additional items, including basic sewing tools, test fabric (cotton/poly), and your sewing machine
A full check list of patternmaking supplies and items to bring to your class will be sent with your enrollment confirmation.
How the Schedule Works
The program includes 3 full-day classes. There are no makeups or re-teaching for missed sessions, but you are welcome to purchase private sessions if you need help catching up on your skills or project.
Prerequisite
This workshop requires that all students have at least basic sewing skills and proficiency on a sewing machine. You don't have to be an expert, but you also don't want to slow down for sewing lessons!
Our criteria for basic skills for sewing and fitting a bodice and skirt:
Ability to thread and operate a sewing machine unassisted
Sewing straight, accurate seams
Sewing darts
Setting in sleeves
Zipper application
Having sewn at least a few simple garments using a commercial pattern.
Please feel free to call us if you are unsure.
281-493-1941 Ask for Sherry
If you don't know how to sew yet, no worries! Put this class on your bucket list and check out our fast, fun Basics 1 – Sewing Essentials class CLICK HERE FOR DETAILS
What's Next?
The Sure-Fit Designs™ Pants Kit will be our next exciting and much sought after workshop! Once you have drafted and personalized your pants blueprint pattern, you will be shown how easy pants designing can be including leggings, yoga pants, jeans, palazzos and more. Pants Kit courses are now on our calendar!
Sure-Fit Designs Shirt Kit for men and women will take your tailoring skills to the next level! The fuller, more relaxed cut of the classic tailored shirt is also the basis for jackets and coats, from hoodies to trench coats!
Note: Specific course details will be available here soon! But The Shirt Kit class is now on the calendar and open for enrollment. You can call the studio at 281-493-1941 or text to 713-504-3989 for further details.
Notice
Your instructor, Sherry Reese of Thimble Fingers Sewing Studio Inc., is a fully trained, certified Sure-Fit Designs™ teacher. Sherry Reese has the legal right to re-sell any and all of the Sure-Fit Designs™ products as well as accrue benefits through affiliate sales.
Our Fall Schedule is Now Up!
We just finalized our 2022 Fall Schedule, and it's ready for online registration by using the online calendar below.
Or, call us if you want to register right now, ask some questions, or need additional assistance.
Questions? Ask for Sherry
(281) 493-1941 at the studio or (713) 504-3989 to text
The Dress Bodice Pattern Fitting Class Schedule