After School Sewing Classes
After School Sewing Classes
Sewing lessons are the perfect after-school treat on a weekday! In these 1-hour weekly sewing sessions, kids can develop their sewing skills on a regular routine of shorter classes that emphasize enjoyment and creativity. The classes are self-paced, so students may begin their classes at any time and will share their class with other students of various skill levels and ages. Our kids are encouraged to choose their own projects and work at their own speed and comfort level.
New students begin with three easy "starter projects" designed to teach sewing machine operation and safety. After completing these projects – a belt, a small bag and a large drawstring bag - students are then free to select more complex projects, appropriate to their age and skill level, to develop and accumulate additional sewing skills.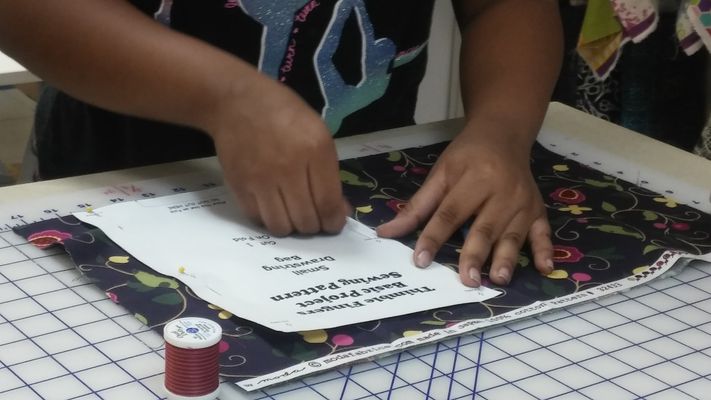 During a typical school year of weekly classes, students of all ages can expect to accomplish these tasks and life skills:
Safely and independently thread and operate a sewing machine
Learn to accurately sew standard seams
Use simple patterns
Practice correct fabric layout
Pin, cut and mark pattern pieces for constructing a sewing project
Learn the most common sewing and craft techniques to assemble easy projects
Develop appreciation for the work process involved with a creative project
Build dexterity while learning to safely use their tools and materials
Our curriculum and instruction program is primarily based on supervising individual projects. However, we can offer a skills-building program focused on a specific set of sewing techniques used in the sewing and garment industry. This program is directed at older students seeking to prepare for advanced education in fashion and design work. You can get details from our instructors.
Cost
$145 per 6-week session for the class fee, which is due at the beginning of each session. Supplies are extra and are purchased separately.
Who Can Do This
Kids of all ages, 6-16 years old
Schedule
The Spring and Fall semesters are divided into 6-week sessions consisting of a 1-hour class each week. Class sessions are held on Tuesdays, Wednesdays or Thursdays each week, with an early session at 4-5pm or later session at 5-6pm. Students are free to sign up for one or more 6-week sessions during each semester. We now have drop-in classes for extra sewing on school holidays or early dismissal days.
Please be sure to read our class policies regarding absences and make-up classes before committing to a class time.
About Sewing Supplies
Students are required to provide their own supplies, which can be purchased at our studio or from a local fabric store. Our printable Supplies List includes everything new students need to complete their first 6-week session.
Get Started
$145 per 6-week session
Supplies are extra and are purchased separately.
After School Sewing Classes - Schedule