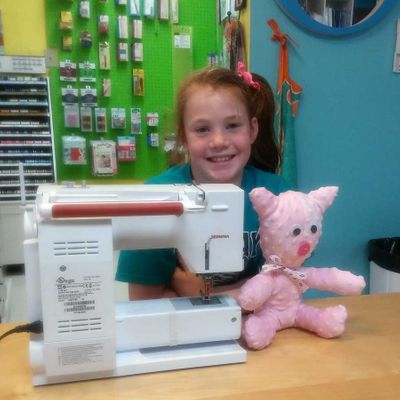 Holiday / Spring Sewing Camps
These camps occur during Thanksgiving/Christmas holidays, Spring Break and other times during school breaks. These camps are structured and priced the same as the Summer Camps. Students can take advantage of school breaks to get in extra sewing beyond the summer camp classes. After-school students are also free to attend them for extra focus on a special sewing project. And they are great for new students to try out sewing classes if their weekday schedule is too busy or after-school hours.
These camps are open enrollment, with students free to attend any combination of dates and times. They are perfect for coming just enough days to work on a favorite project, or for a brief, fun sewing fix.
Cost
$65 for each Camp session
Who Can Do This
New Students ages 6-18 (ages 10+ benefit the most from this brief course; younger students may need additional sessions)
Special Note for New Students
While there's no minimum for attending the Holiday Camps, we strongly recommend purchasing a minimum of 2 camps for new students, to give them an opportunity to enjoy the results of their intensive work in the first session. It covers safety practices as well as basic concepts for operating and handling a sewing machine. When you've finished your first three Saturday Camps, you're free to explore the fun of sewing stuff – You can begin choosing your sewing projects!
Schedule
Morning camps are from 9:30 AM - 12:30 PM and afternoons are 1:30 PM - 4:30 PM during the holiday or spring break schedule. Open enrollment means that students may sign up for any combination of dates and times.
Supplies
New students are required to bring all notions and supplies from the Supplies List to their first camp. You are not required to purchase your supplies from Thimble Fingers; but for your convenience, we have them kitted up and available to purchase, either when you register now, or on arrival at your first class.
Enroll in Holiday / Spring Sewing Camps