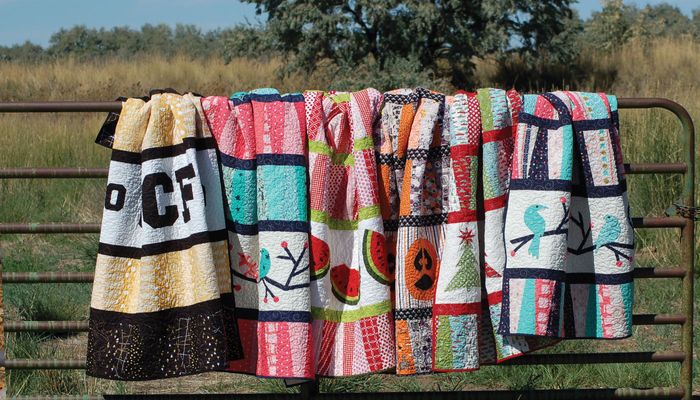 Quilting For Beginners
This beginner's class is perfect for new and experienced sewers to check out the fun, creative challenge of quilting. See how easy it can be to make a beautiful quilt while learning the basic techniques for quiltmaking.
Bring your sewing machine to this set of five 3-hour classes that take you through the essential steps and techniques required to make a throw-sized quilt. The project is simple so you can quickly build up your skill set; yet it's flexible enough to allow plenty of creative freedom.
The overall quilt design uses easy Crazy Quilt piecing and includes an applique feature. This is perfect if you are a first-time quilter or an experienced beginner, since it allows you to choose whether to keep it plain and simple or add more creative elements to give it your own look. At the end of your five classes you will have a beautiful quilt!
Who's Eligible:
Anyone with basic sewing machine skills who wants to use their sewing as a creative outlet can take this class.
Prerequisite: The only prerequisite for this class is basic proficiency with the sewing machine. This includes ability to thread and operate your sewing machine without assistance and to have sewn at least a few easy craft or fashion projects. Please feel free to contact the instructor if you have questions.
Need to get those skills? Take our Fast Start on the Sewing Machine class and you'll be ready to quilt!
What You Will Learn:
Quilt design principles, including fabric choice, for a high impact visual effect
Precision cutting w/ a rotary cutter for speed and accuracy
Expertise in quarter-inch piecing techniques
Applique techniques – Choose easy peasy or super pro styles for a unique design
Machine quilting on your own machine
Traditional quilt binding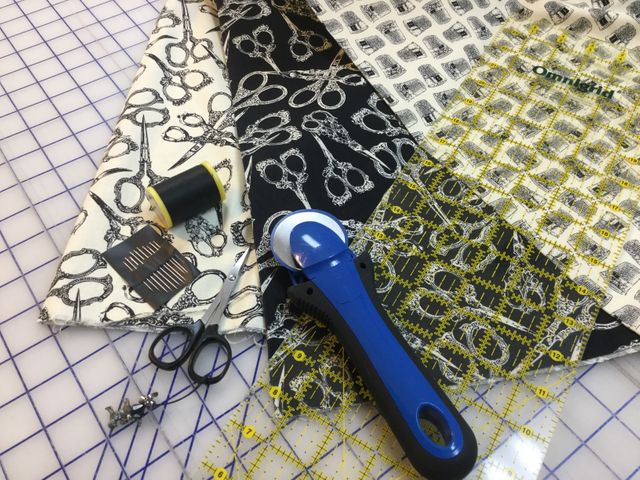 This  Class  Is  Especially  Made  for  Beginners  
Get a lot of individual guidance and support in class, as well as plenty of supervised practice time.
The class fee includes complete written directions and diagrams for a small quilt featuring the principles of piecing and applique techniques.
Learn to master your piecing and stitching skills for efficient and accurate sewing. You will take your sewing machine skills to new and higher levels, too.
Pick up tips on useful quiltmaking tools and products, for organizing and managing your project, as well as design secrets to inspire your creativity.

Even experienced quilters can enjoy this fast, easy project that looks like much more work than it really is!
Cost: $175 for a set of five 3-hour classes
This special introductory price includes the class fee and your printed instructional materials.
Additional costs include: Fabrics, batting, etc., for your quilt; important accessories for your sewing machine; and other optional, but helpful, sewing supplies and quilting tools.
About your supplies
Bring your sewing machine in good working order with the instruction manual, if you have it.
There's no need to bring any other supplies to the first session, as we will provide a full orientation on supplies and tools for your new quilt project and for quilting in general. You can bring them from your stash at home or purchase them from a local quilt shop. Our own Thimble Fingers fabric shop also sells most of the tools and notions you will need for your project.
How the Schedule Works:
The program includes five 3-hour classes - Each session includes 2 hours for teaching and demos plus 1 hour for practice and individual guidance. There are no makeups or re-teaching for missed sessions, but you are welcome to purchase and join any of our Supervised Sewing Classes if you need help catching up on your skills or project.
Please be sure to read our class policies before committing to a class time.
What's Next?
Watch for our next level of "Easy Quilting" classes to introduce the creation of quilt blocks and add new tips and techniques for greater complexity and sophistication in your new found quilting hobby! Want to learn how to sew garments or other projects? Sign up for Sewing Basics 1 – Essentials, where you'll learn how to put together a project from start to finish using a commercial sewing pattern.
Get Started
$175 for a set of five 3-hour classes
Additional costs will include fabrics and sewing supplies purchased from a fabric store
Quilting for Beginners - Schedule