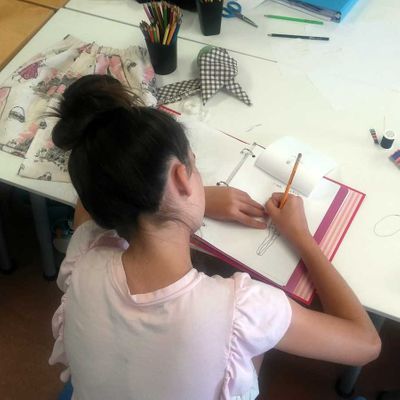 Fashion Design Summer Camps
Our Fashion Camps are temporarily suspended
5-Day Design Camps for Creative Fashion Lovers
Fashion Design Camps teach students to think and work like designers. Sewing becomes only one of several tools they learn to use during a week of creating clothing and fashion accessories, culminating in a Runway Review. The Summer Fashion Design Camps are 5 days of 3-hour sessions with plenty of time to practice sketching, draping, and sewing and then recording their creative journey in a design journal. The perfect week for fashionistas age 11 and older!
Fashion Design Summer Camp schedules are June 15 - 19, 2020 and July 13-17, 2020 with a choice of morning (9:30am-12:30pm) or afternoon (1:30-4:30pm ) sessions.
Cost
$300 for the Fashion Camp fee plus $45 supplies fee (Includes tax)
Fashion Design Camp Features
Work under the guidance of a professional fashion designer
Develop your own fashion brand
Learn to think creatively to turn a fashion idea into a finished garment you can wear
Learn new practical skills: Fashion sketching, Fiber art, Draping a dress form, Embellishing, and more!
Design students celebrate their new creations on the Runway Review!!!
Projects You Will Complete
Start a design Journal for your sketches, design ideas, fabric swatches, and technique samples
Create some fabric
Design three styles on a 1/2 scale dress form
Design your own skirt or vest and make it unique with your new embellishment skills
A surprise design challenge!! Put your creativity on the line with this fast, fun, no-rules challenge!
Who Can Do This
Creative kids age 11 and older with basic sewing skills.
No need to be an expert at sewing, since these camps emphasize creative thinking over hard skills; however, the ability to operate a sewing machine will enhance the students' class experience. Feel free to call us at 281-493-1941 if you have questions.
Supplies
Classroom supplies and fabrics are all included in the $45 supplies fee paid at registration. Students are encouraged to bring their own sewing boxes with basic sewing tools for the light sewing involved in their projects.
Design Camp Attendance Policy
Since each of our camps are the only Fashion Camps of their kind offered this summer, there are no make-ups for missed classes or refunds for cancellations less than 2 days (48 hours) before the first class. A $25 administrative fee will be deducted from refund requests for earlier cancellations. Your understanding in this matter is greatly appreciated.
Camps with fewer than 4 students registered are subject to being closed.
Enroll in Fashion Design Summer Camps